TIGER 1200 EPIC ADVENTURE | WESTERN CAPE SOUTH AFRICA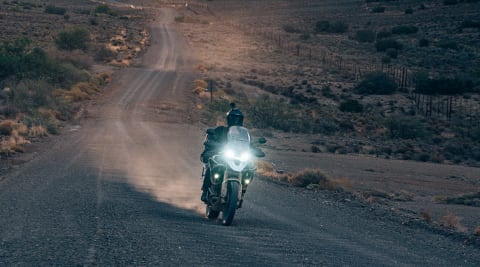 South Africa is home to a plethora of remote, diverse, and epic motorcycle riding locations that are truly hard to beat. With a network of over 700,000 kilometres of dirt roads, the country can be seen as the pinnacle destination for motorcyclists looking to get away on an epic adventure aboard a Tiger 1200.
Friends Bruce, (CEO of Triumph South Africa) and Joe (Owner Bonafide Moto Co) have travelled through a handful of Southern Africa countries together over the last 5 years. In March 2023, they set out on a new adventure together to explore the Western Cape of South Africa. The goal was to recce some routes for upcoming trips and put the Tiger 1200 to the test on some challenging terrain. Read Joe's account of the adventure below.
"I had travelled some of this route before in my truck years ago but to experience all of these mountain passes, remote sections of dirt roads and to literally ride to the southernmost tip of Africa (Cape Agulhus) on a Tiger 1200 was really a bucket list experience," said Joe Fleming.

"While Triumph is my business in South Africa, it is also my "release". Living in Johannesburg, we don't often enough get to experience the vast beauty that the Western Cape has to offer. With the Tiger 1200 being my daily ride of choice, this was an incredible way to spend time with it in its "natural habitat"," said Bruce Allen.

Why choose the Western Cape for an Epic Adventure?

"The majority of tours and adventures hosted by Bonafide Moto Co depart out of our homebase of Johannesburg. For tourists coming from Europe and other countries, Cape Town tends to be the preferred destination for people to fly into and spend the majority of their vacation while in South Africa.

The city itself boasts some of the best beaches in the world, epic hikes just a short drive from the beach and a perfect jump off point to great day drives to wineries or other scenic locations.

With that in mind, a route was plotted that would depart from Cape Town and take guests through some of the Western Cape's most iconic mountain passes and through some remote parts of the area. There were several days of the trip where we wouldn't see another vehicle, human, or animal for hours. South Africa is truly special in that regard that it's quite easy to head out of town, find a dirt road and get remote on a motorcycle."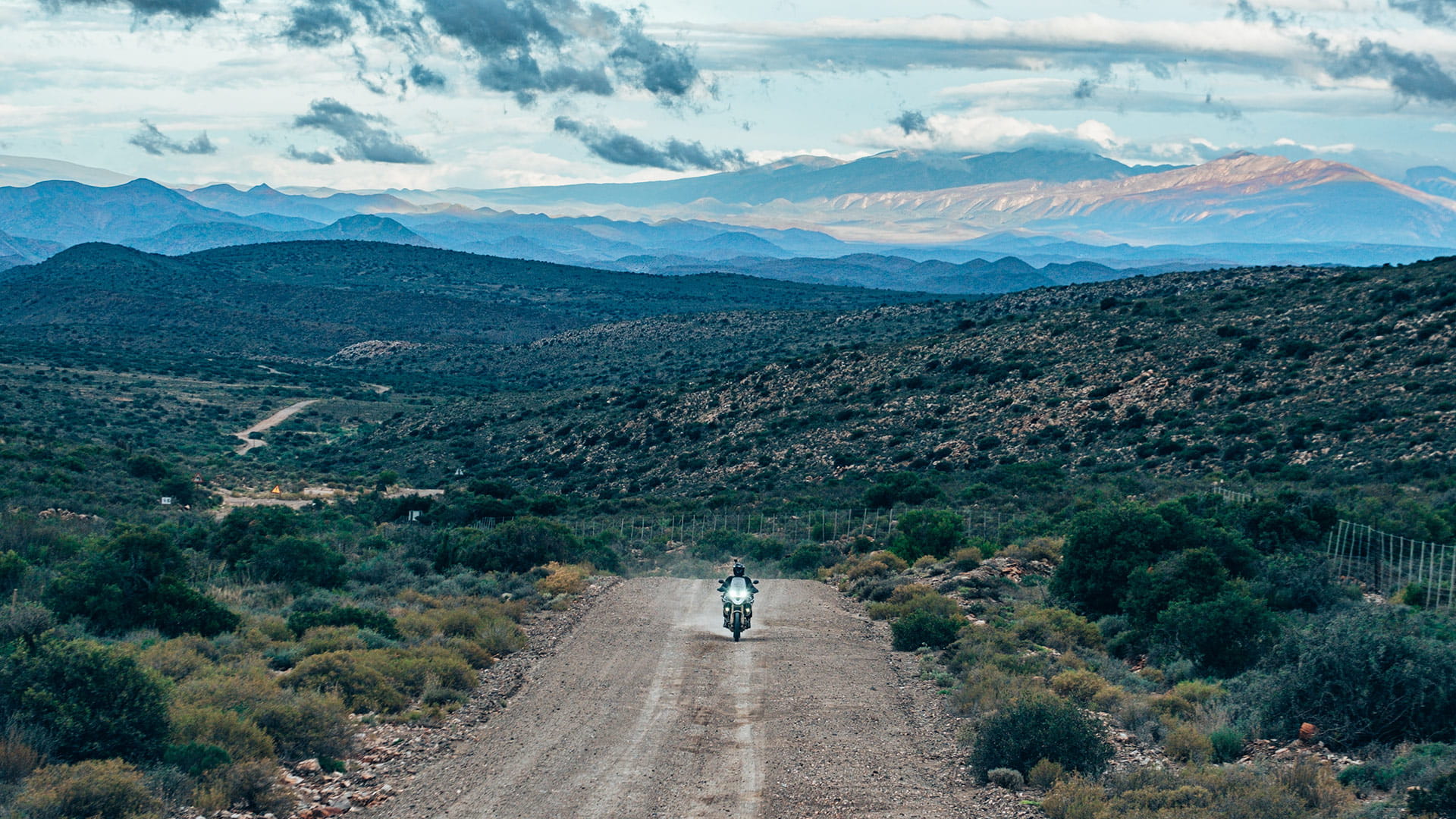 How long was the trip?

"The route we picked out for this adventure was 1300 kilometres and we chose to do it in 4 days. About 40% of the route was dirt. For two riders that distance is manageable but it's also quite a push. We knew there would be early mornings and long days, but that's the whole point of a recce like this.

When we open the trip to other riders to come join, we can really expand on it. To make the riding more manageable we'll shorten the distance each day of riding so that there's a bit more downtime for people to experience the country a bit more.

For the next trip, we will also add a bit more overall distance and a few more days to explore other locations that we didn't have a chance to see, like the Tankwa Karoo. I'm really looking forward to offering up this trip in the future for people from around the world to come and enjoy. We want South Africa to become synonymous with bucket list destinations for motorcyclists."

What were some of the challenges of the trip?

"The amount of rain we encountered made things quite interesting. Weather reports showed it was quite likely we'd encounter rain, but from my experience you never know what to expect until you're there. It rained 3 out of the 4 days of the trip but honestly it was such a great experience to be able to ride through this part of the country in unique conditions like we encountered.

Our timing was also quite nice. We dodged quite a few big storms just in time and never had any conditions that seemed too much to bear.

This part of the country is quite well known for its dry and arid climate so to have the opportunity to enjoy it in the rain was really special. It allowed us to move a bit slower, take in the views and see another side of this area."
HOW DID THE BIKES HANDLE THE MOUNTAIN PASSES
"Beautifully! We really put our trust in the bikes and allowed them to shine in some really tough conditions. Swartberg Pass was one of those passes where we were grateful to have the Tiger 1200. There were times that we could maybe only see 20-30 meters due to thick fog and rain. Having the auxiliary lights, aggressive tires and allowing the engine of the bike to just pull us along at a comfortable speed was what we needed."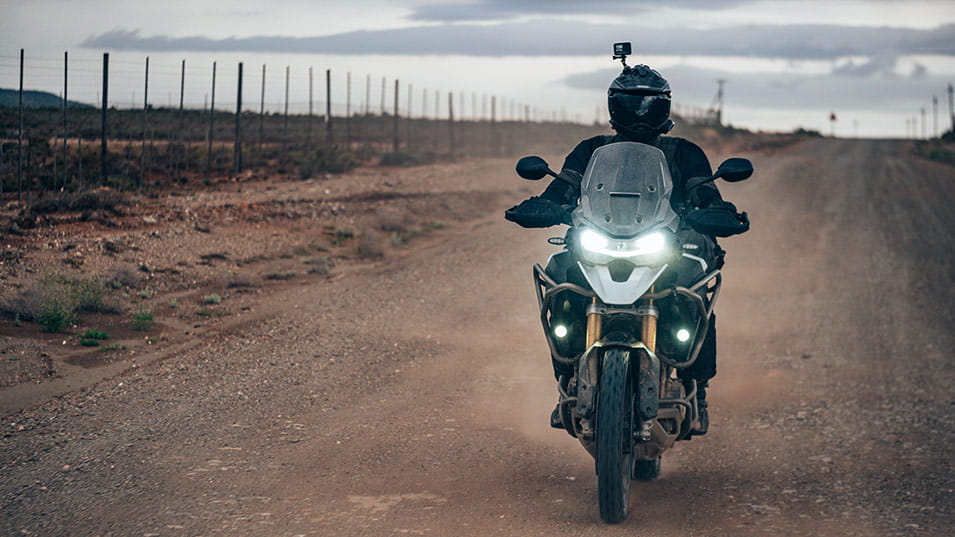 "Rooiberg Pass was a bit more technical with a lot of loose rocks throughout, but again the Tiger 1200 just ate it up. We kept speed low and let the bike glide up the mountain. We really had no issues and were extremely pleased with the bikes."

"These Tiger 1200's are incredible, offering the agility of a midweight adventure bike, with all the power and comfort of a large adventure bike. Whether it's grinding up a rocky climb, wading through rivers, or cruising the well-maintained open dirt roads, the bike just inspires so much confidence," said Bruce.

What was your favourite part of the trip?

"For me it was stopping at this restaurant called 'Kobus Se Gat.' We actually went there twice haha. It's on the southern side of Swartberg Pass just before you start the dirt section. We had been riding in the rain for the past 3-4 hours, soaked, cold and hungry. We walked in with our rain suits dripping, helmets still on and were drenched from the rain. My attention went straight to the humongous fireplace that had a raging fire going.

My first thought was to order a cup of coffee, get some food ordered and take off all my wet items of clothing (socks, boots, gloves, etc) to place by the fire. Anytime you can stop somewhere to dry your clothes by a fire and get something hot to eat, it's a good day on the bike.

Pro tip: If you stop there for lunch or breakfast, I'd recommend getting the Roosterkoek (traditional South African bread) with egg, bacon and cheese," said Joe.

For Bruce, "My highlights of the trip were "the unexpected", which were largely due to the abnormal rains in the area. Travelling along a dirt road, through water crossings, and sometimes washed away roads, not seeing a human for 150km, arriving at a low level bridge, and seeing humans stuck on the other side, waiting for the water to subside. Getting to a mountain pass with a "road closed" sign due to flooding, and realising that we are on Tiger 1200's, so no problem. This is what adventure riding is all about for me."
Tiger 1200 Rally Pro
Advanced off-road capability will take the Rally Pro as far as you want to go. A choice of over 50 genuine accessories to enhance comfort, safety, security and confidence will take you even further.
Starting from € 27.995,00